Latest Videos
05/21/2015 08:00 PM
Junior Peixoto BareBangs Hugo Gobi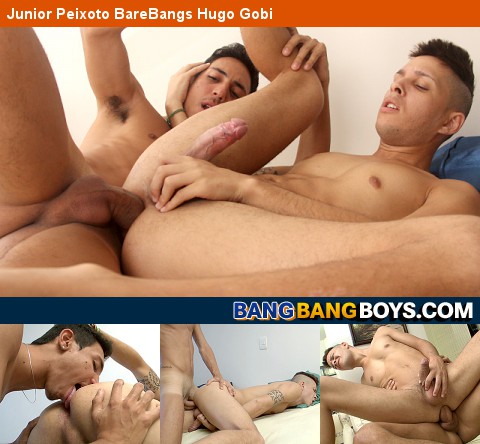 Hugo's fine ass looks perfect framed by his jock strap. Junior Peixoto can't wait to kiss it. They are soon locked together feeling each other's cocks growing harder in their pants. Hugo takes Junior's thick cock and puts it in his mouth. He swallows it whole. Junior isn't ready to fuck Hugo yet so he lubes up Hugo's fine ass with his tongue making sure that Hugo's hole is quivering with anticipation. He is soon rewarded with Junior's bare cock and Junior wastes no time in getting every inch deep inside Hugo. It's a frenzied fuck and Hugo ends up with cum all over his mouth.
05/21/2015 08:00 PM
Lukas Gregory & Denis Klein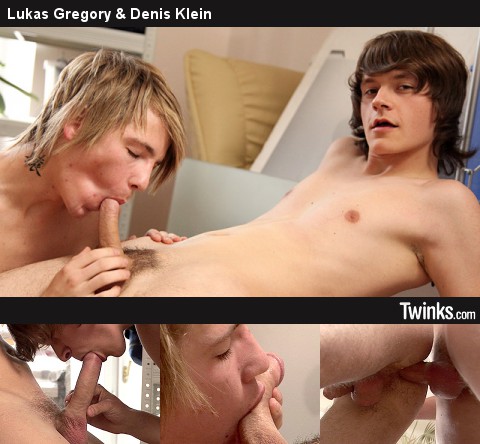 In the age of old battle of who is hotter blond vs brunette today we have the sexy Lukas and the gorgeous Denis locked in a tongue battle. These two twinks are both as sexy as hell and as they strip to reveal their slim bodies and hard cocks it's hard not to swoon. It's a bareback fuck battle that ends in buckets of spilled cum from cute young cocks.
05/20/2015 08:00 PM
05042015s2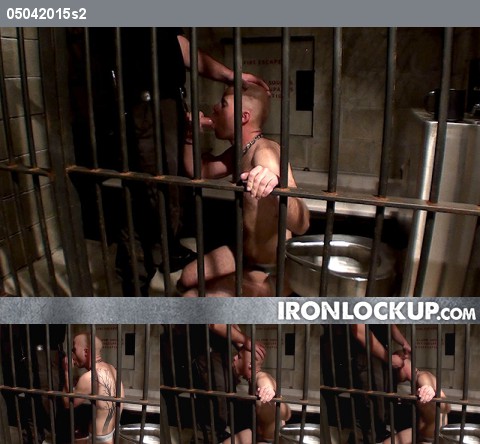 Still wet from his golden shower the boy continues to service Sir's rock hard cock. He braces himself against the bars of the cell as Sir forces him to deepthroat his cock. With long snowy bursts Sir covers the boy in his cum, wiping his hand off on the boy's head.
05/20/2015 08:00 PM
Mike Tiger & Diego DeLaVega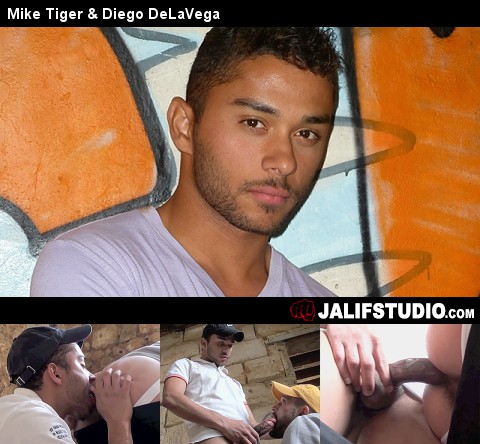 Mike Tiger's ass is finger licking good!!! He likes going cruising in abandoned houses to find any guy who wants to eat his very huge ass. Above all he looks for pig mates with big cocks because Mike is not satisfied with anything less. What Mike wants is a big wad of steaming cum from a big guy... and who does not?
05/19/2015 08:00 PM
Marcus Ryan & Lucas Wright BAREBACK in Houston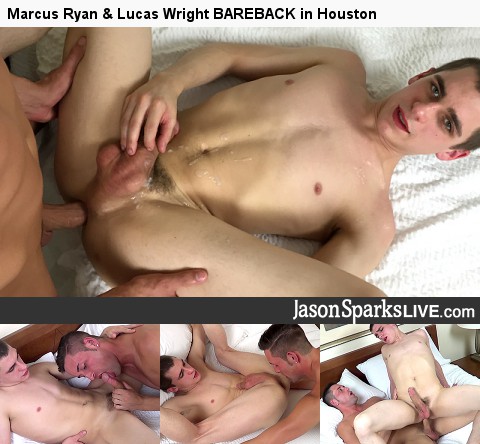 Lucas Wright has been travelling with the Jason Sparks Nationwide Bareback Road Trip for a few weeks now and he's the first to have some fun with new porn model Marcus "the Hammer" Ryan. He earned that nickname in the locker room at school and after you watch this scene you'll know exactly why he got that name. He's more comfortable being naked - which suits Lucas just fine cause that's all he wants to do is get him naked and stick his big bare cock deep inside. These two fuck like absolute pros - this is one of the hottest scenes we've shot and let's hope we see a lot more of both these two!
05/14/2015 08:00 PM
Dayton O'Connor & Seth Fischer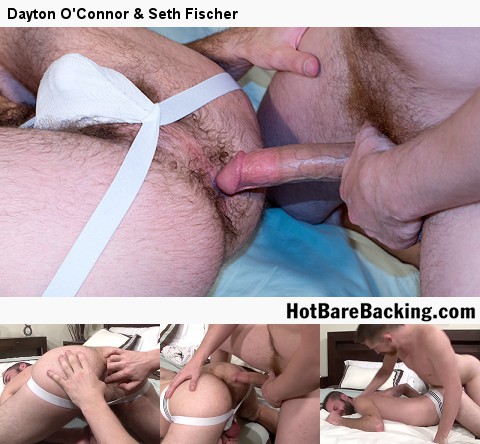 Real life escort partners, Dayton O'Connor and Seth Fischer, decide to put on a show for us instead of the private ones that few lucky men can afford. Dayton is naturally aggressive and Seth lets him use his holes. One minute Dayton is kissing Seth passionately and the next making Seth gag on his cock. Dayton loves ass play and he has to get in a little bit as he rims Seth. Then it is on to the aggressive fucking. There is nothing fake about this scene. Just hard bareback fucking in all positions until Dayton shoot a huge load into Seth's waiting ass.
05/14/2015 08:00 PM
Jeremy Nagy & Janko Sula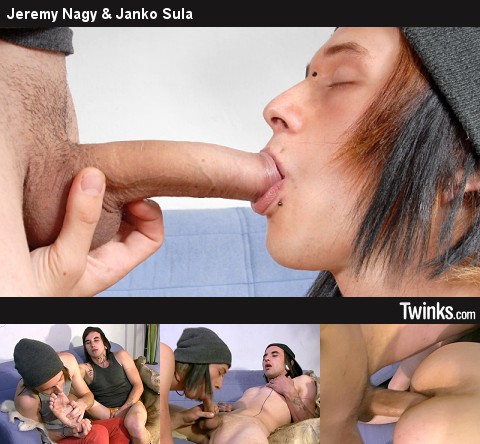 Here's a couple of dirty street twinks who have found a couch to crash and fuck on. Looks like we have a couple of kinky twinks too as both a big fans of feet and deliver a toe sucking extravaganza. But all of this is just foreplay (or feetplay if you will) to the main event where bare cock goes deep inside tight young ass. Of course you know this kinky pair are going to end up with cum all over their pretty faces.
05/14/2015 08:00 PM
Jack Finix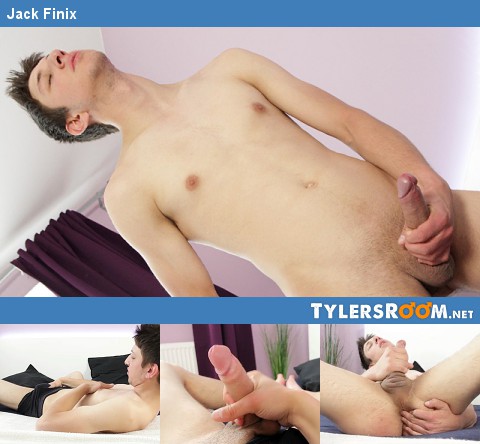 21 year old Jack Finix is from a small town in the Czech Republic. Strikingly handsome and twinkishly smooth - Jack models in his spare time to help finance furthering his education.
05/13/2015 08:00 PM
05042015s1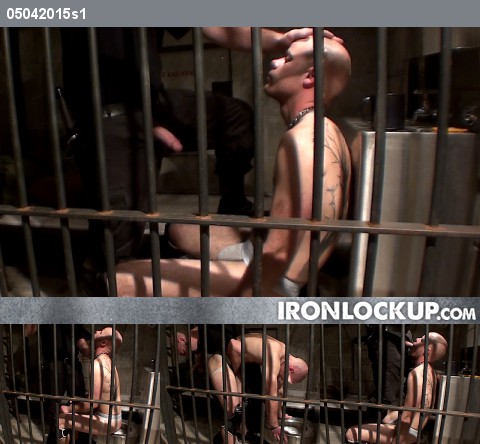 The boys eyes are transfixed on Sir as he orders him to open up and deep throat his nightstick. The boy is then bent over the prison toilet and made to take a beating to his junk and ass. Sir then face fucks the boy but instead of cumming he showers the boy in piss.
05/13/2015 08:00 PM
Vin Costes, David Serra & Carlo Cox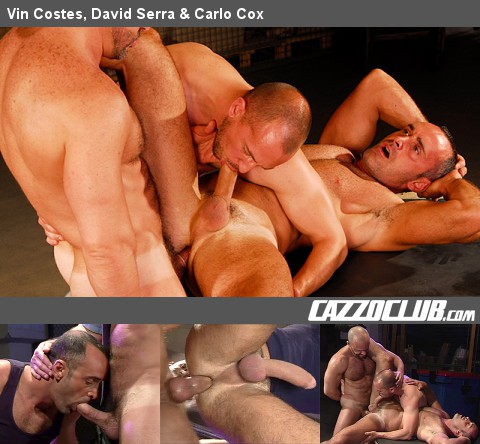 What happens when a security guard on his tour of the factory building meets a late night worker? And what if another colleague caught the two? It happens in Berlin's world of work. Cocks are sucked hard and asses are licked then deep holes fucked until they evaporate. Get some cock in your break cum hard.
05/13/2015 08:00 PM
Wesley & Xavio Kix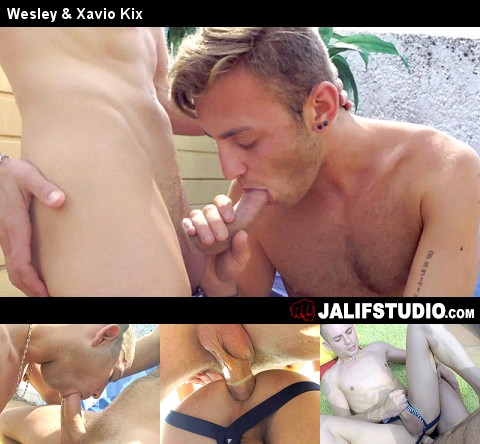 Wesley has invited his friend Xavio to enjoy the sun on his terrace, but what he really wants is to eat Xavio's huge ass, fuck it and of course, have a big load. It seems that his scheme is going to work as he fucks that sexy brat Xavio.
05/07/2015 08:00 PM
Marcelo Mastro BareBangs Tony D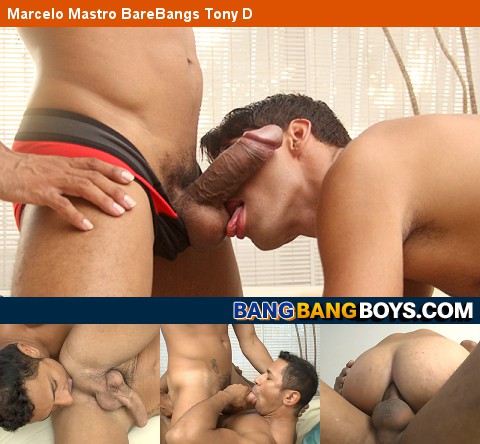 Marcelo and Tony are making out on the bed. Their underpants barely holding their erect cocks. They suck on each other's cocks in a 69 - then Marcelo rolls Tony over and starts rimming his gorgeous ass. He buries his face deep in that fine butt and then spanks him on the ass when he wants his cock sucked. Tony oscillates between deep throating Marcelo's thick meat and slapping himself in the face with it. But it's time he got impaled by Marcelo's monster - he jumps on and starts riding that cock screaming with agony and joy.
05/07/2015 08:00 PM
Nico Moratti & Denis Ruso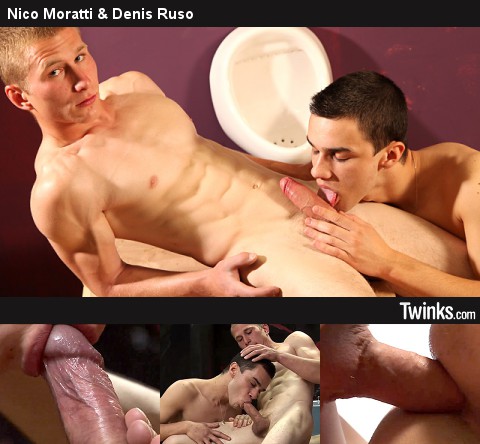 Nico and Denis are a couple of ripped twinks who have snuck away from training to hook up in the toilets. The kiss and then start sucking each other's erect cocks whilst feeling every inch of their hot young bodies. Watch their abs ripple as they fuck bareback. It's a wonderful scene with a cum crescendo at the end!
05/07/2015 08:00 PM
Master Wants To Play: Part 2
After Jakob is taken out of the cage for some fun, he is first inspected from head to toe, and then tied to the cross. Master Steven strokes and sucks his boy to keep him hard, all the while using a rough flogger to mix pleasure and pain.
05/06/2015 08:00 PM
Shawn Andrews & Corbin Riley BAREBACK in Omaha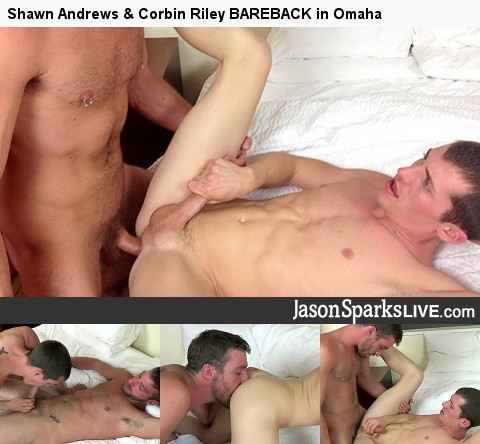 Shawn and Corbin can hardly keep their hands off each other on the tour. The chemistry between this pair is quite incredible - they kiss passionately before exchanging blow jobs. Corbin then buries his bearded face deep in Shawn's fine ass. Shawn contorts in ecstasy as Corbin's tongue lubes his hole ready for his bareback assault.