Latest Videos
11/20/2014 07:00 PM
Bi-Bareback Orgy - Part 2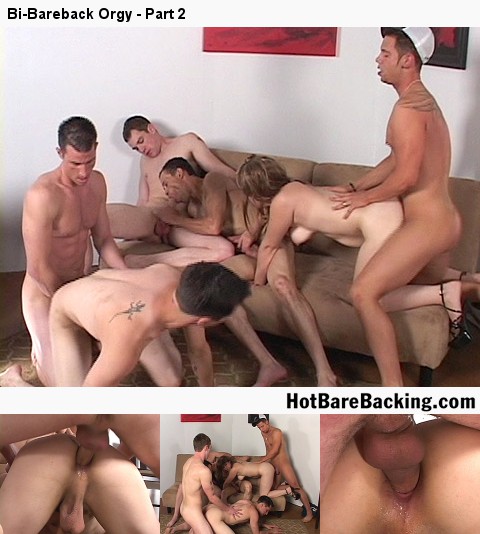 The guys take turns eating and fucking Jessica while she blows them all. With only one hole to fuck, it is only natural the guys turn to one another's assholes for some relief.
11/20/2014 07:00 PM
Workshop Trio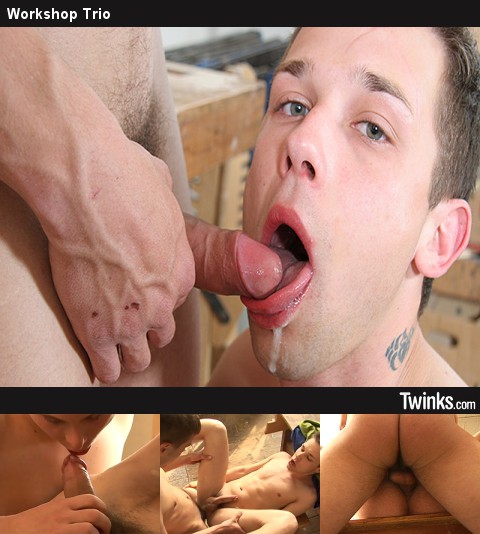 Our young apprentices have been finding that all the hard work is doing wonders for their ab definition. Upon examining each other's abs they find that their cocks are hard and so must be given wonderful blow jobs. Then a terrific event occurs - a third sexy twink enters the workshop with a hard cock and just ready to join the suck fest. It's too much for one of our lovely lads who cums all over his workmate - leaving the other two to get down to a bareback fuck.
11/19/2014 07:00 PM
08162014s14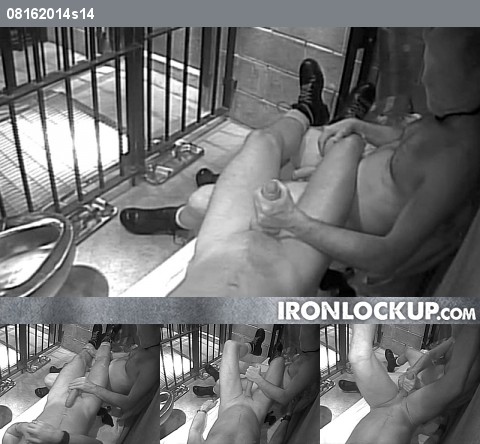 With time to kill one of our prisoners takes to teasing the other's cock, sometimes jacking hard, sometimes teasing lightly. He squeezes and stretches his balls, polishes his head, and tickles his shaft.
11/19/2014 07:00 PM
Andy Nickel & Gilo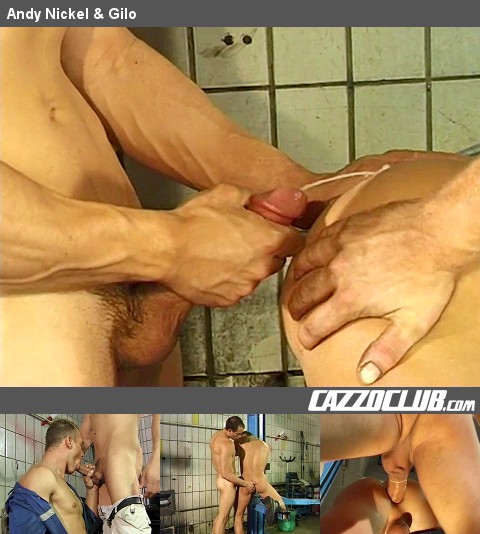 A customer wants to pick up his car and meets Andy the workshop whore.
Andy has the impressive cock of the customer in his mouth very quickly.
He can't wait to give what he needs in Andy's tight ass. Andy's ass can hardly absorb the thick trunk, but nevertheless he moans as the hot fucker customers pounds him until he squirts the cum on the ass. This is customer service which deserves its name.
11/19/2014 07:00 PM
Martin Mazza & Frank Valencia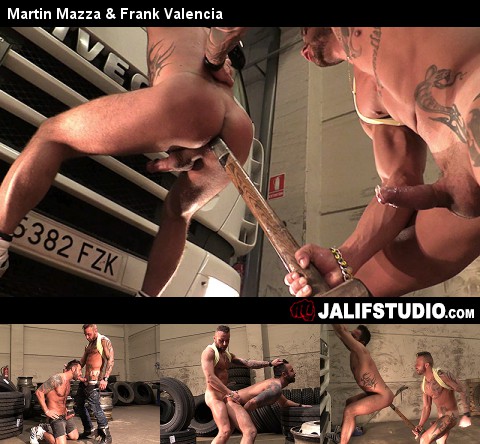 Hitchhiker Martin jumps into a truck hoping to be taken to Madrid, but arrogant trucker has other plans for him. He'll have to suck a lot of cock and become a good sex toy if he wants to be home tonight.
11/18/2014 07:00 PM
Colby Michaels & Dillon Anderson BAREBACK in Buffalo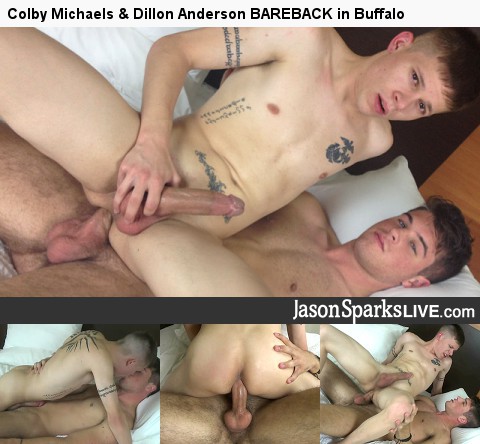 Colby Michaels is the latest Jason Sparks discovery and boy does he have a surprise in store for Dillon Anderson. Not only does he have a huge dick that he rams bare into Dillon's ass but he has a tsunami of cum that spews forth from his meaty monster to cover Dillon's chest and face!
11/18/2014 07:00 PM
Anton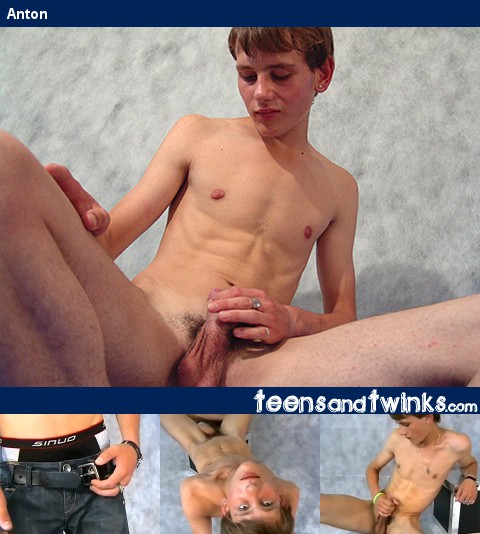 Anton is the epitome of twink goodness. The stunning 18-year-old strips off to give us a peek at that hot body, before groping at his cock through his underwear. Then the real fun begins.
11/12/2014 07:00 PM
Miguel & Hugo BareBang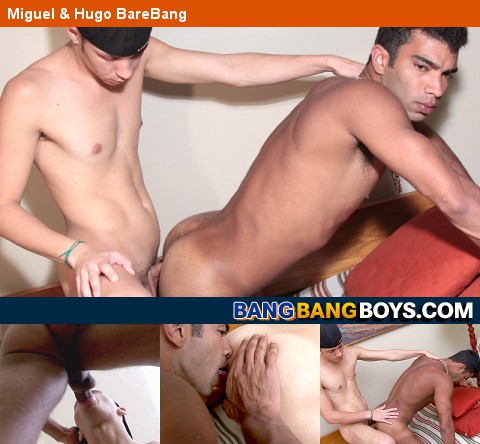 Hugo is curious about what Miguel has got in his pants. But before he can release that beast Miguel is deep throating his cock. Hugo finally gets a chance to taste Miguel's meat and the feeling of his lips on his shaft makes him so horny he turns Hugo around to rim his ass. That's enough foreplay Hugo decides and takes his bare cock and shoves it deep inside Miguel's fine ass. All's fair in love and fucking so Miguel decides it's HIS turn to fuck Hugo and he climbs aboard this thick shaft for a deep fuck and slaps his ass as he bounces up and down. It's a race to see who cums first and its Miguel who wins spilling his seed all over Hugo's face.
11/12/2014 07:00 PM
Allan Farmer, Jasper Emerald and Josh Ford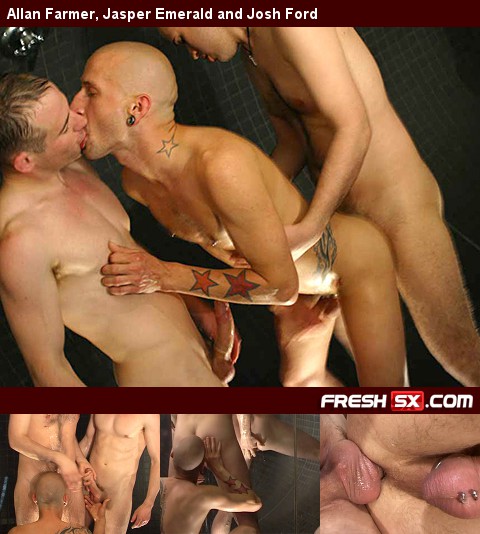 Josh Ford gets fucked deep and hard by Allan Farmer at the urinals of the local swimming baths. They then meet Jasper in the showers for a threesome.
11/12/2014 07:00 PM
08162014s13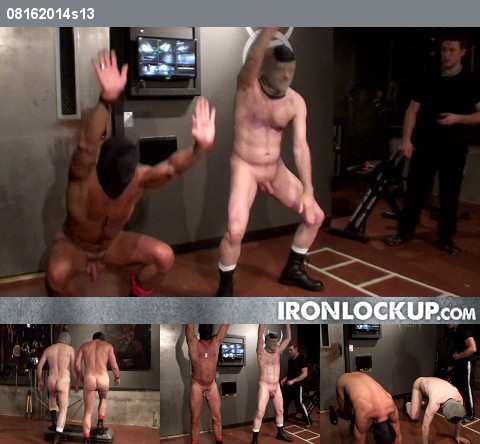 What was supposed to be a very serious forced workout scene turned into a hyper-competative farce as the mostly naked prisoners fail to one up each other through their sets, stumbling on almost every exercise. Puppy is then forced to keep them moving by stinging their asses with a fine carbon fiber rod that gets them unleashing profanities as they try to keep pace.
11/12/2014 07:00 PM
Cyrus, Patrik Ekberg & Jack Janus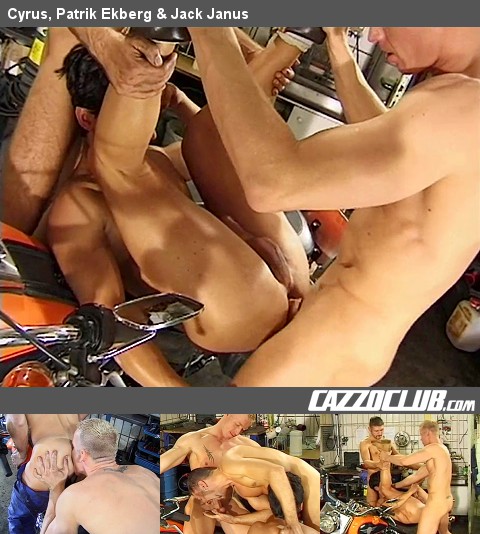 Cyrus is putting a high-gloss polish on his motorcycle when he is surprised by his blond hunky friend Patrick, which immediately brings his stiff cock out of his overalls. When Patrick brings out his gigantic cock Cyrus is too busy sucking to mind. When Jack shows up the sexy trio is complete. Cyrus is spoiled for choice as he deep throats both their rock hard cocks. Patrick starts shagging Cyrus' ass but then slip in Jack! The final cum shower has been well and truly earned by Cyrus.

11/12/2014 07:00 PM
Macanao, Sergio and Kalel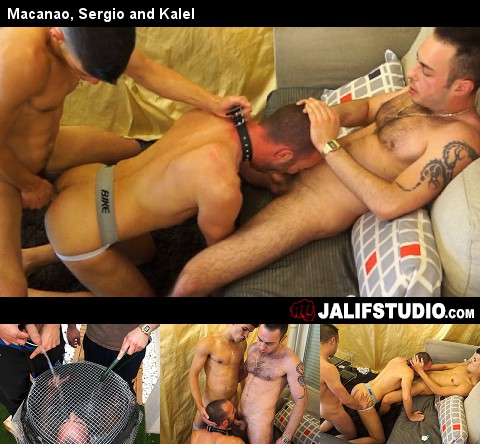 Macanao and Sergio are a couple of young machos sharing a flat, but they are a fucking mess, so they have decided to get a dog slave to do their chores. During his first day he will be subjected to the worst humiliations and worship by these two Spanish studs.
11/11/2014 07:00 PM
Ian Levine & Owen Powers BAREBACK in Salt Lake City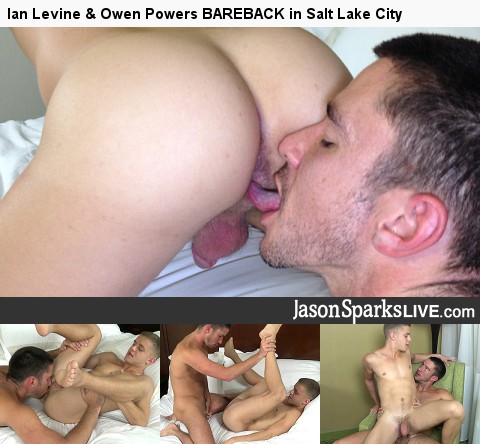 If you think you recognise the newest model to join the Jason Sparks Nationwide Model Search - you're probably right. Meet Ian Levine who has been working in porn for about two years now and Jason has nabbed him for a spot on the tour. Owen Powers is pretty stoked about that as Ian's hot and the two have some undeniable chemistry in this sizzling scene.
11/06/2014 07:00 PM
Shay Michaels & Armond Rizzo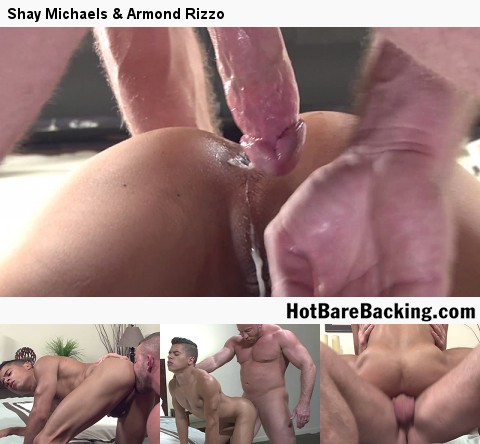 Armond Rizzo is in for a treat today as he's been paired with muscle daddy Shay Michaels. Shay can pick up the cute twink with ease and tosses him around like the cum rag that he becomes. Of course Armond's incredible flexibility comes into play as Shay bends him every which way as he pounds his smooth ass. Shay comes deep inside his hole - there's so much cum shoved inside him it oozes out as Shay pulls out.
11/06/2014 07:00 PM
Patrik Janovic & Radek Snow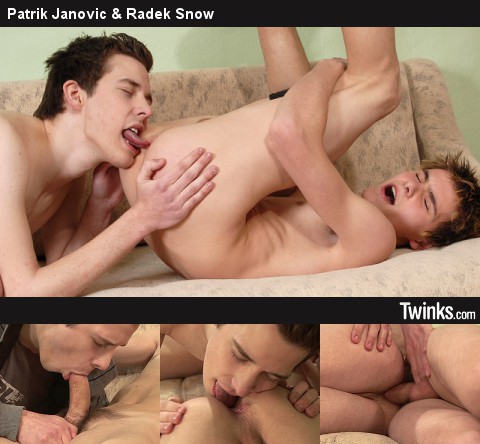 Patrik and Radek are making out on the couch - they are two horny twinks who are totally into each other. Patrik is so horny he rips off his clothes - leaving on his shoes - so that Radek can suck on his cock. Radek then throws Patrik's legs over his shoulders so he can get deep inside his twinky ass with his tongue. Patrik is moaning in pleasure as Radek's tongue works its magic. He's ready to start fucking Radek's ass and shoves his bare cock deep inside Radek's tight hole. It's now Radek's turn to moan and soon the two are exploding in buckets of cum.