Latest Videos
12/18/2014 07:00 PM
Johnny Starr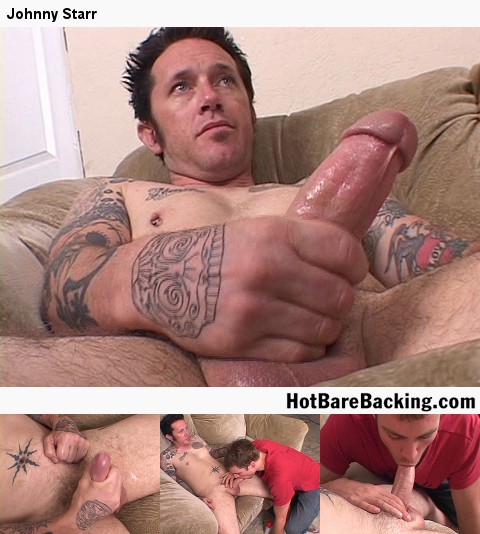 Tattooed musician Johnny Starr has a dirty mouth and mind to match. He finds lots of pussy on MySpace for his big meat. Johnny W uses his mouth pussy on it to completion.
12/18/2014 07:00 PM
Justin & Peter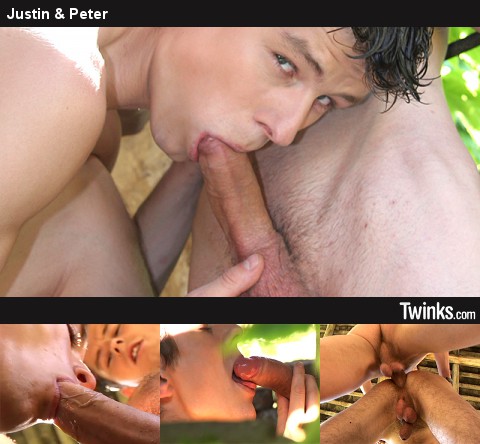 Justin only has love on his mind (and his shorts). Inside his shorts his love pump is rock hard as Peter fondles it and kisses him. He releases the slim twink's thick cock from his love trunks and hungrily sucks on the meaty pole. Feeling the love Justin swaps positions and takes Peter's cock in his mouth to suck on it in the warm summer sunshine. Justin then takes Peter's ass by storm until they both cum in a shower of delight.
12/18/2014 07:00 PM
Ready4Play: Part 2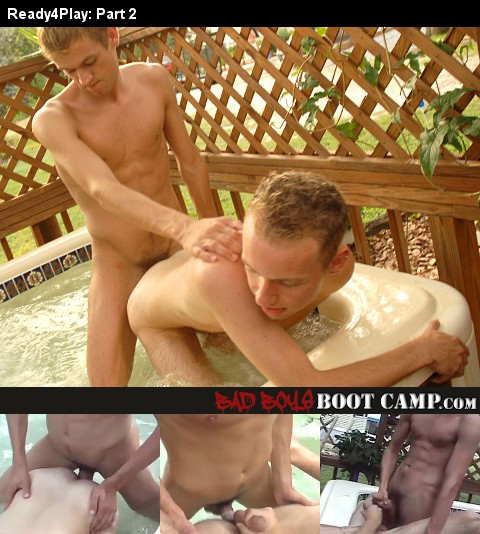 With cocks ready, Alex and Niyo take to the next level. Wet and ready for it, Niyo opens up to take it all the way. See how he stokes his rod while Alex beats that hole.
12/17/2014 07:00 PM
12062014s1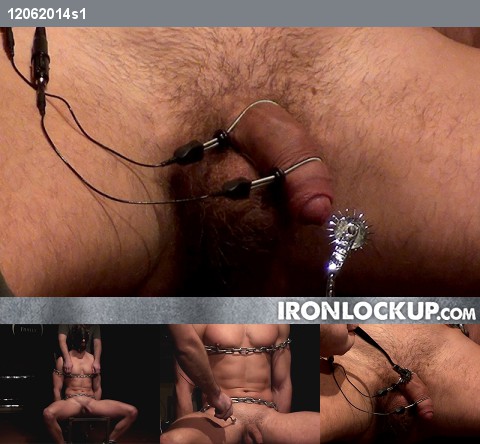 This first time prisoner's nerves are clearly worked up as he gets chained to the comfy chair. Sir warms him up with the threat of striking his chest and proceeds to tease his nipples. The boy starts to get really uncomfortable when the electrified pinwheel start to trace his body but the boy doesn't really start moaning till his dick gets charged.
12/17/2014 07:00 PM
Jens Hammer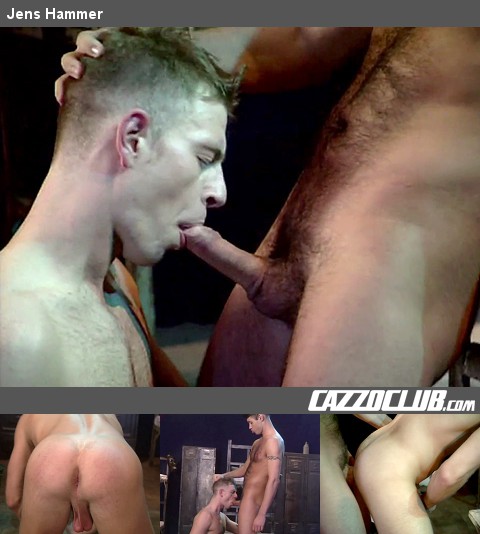 We have a barracks full of hot guys. In the locker of Jens Hammer, a new recruit, the horny major finds fat dildo. As punishment he makes him scrub the floor naked. As he is watched by his supervisor his cock gets hard. Jens is then turns his attention to the supervisor's fat cock with his mouth and forgets scrubbing the floors. Instead his supervisor pounds Jens' ass with an intensive pattern. His rock-hard piston inspects the recruit's butt with hard knocks. Harder and harder he nails Jens' hot ass. He screams with pure lust as out his cum squirts. His superior spits his cum in his face.
12/17/2014 07:00 PM
Arkaitz & Michael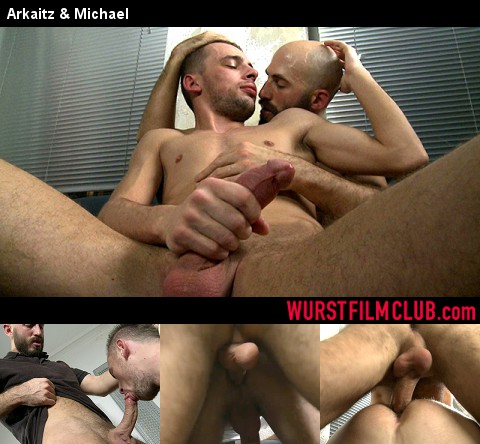 Michael sits in a dungeon, playing with himself. Bearded Arkaitz, a horny tourist, blinds him with his flashlight. Quickly they both move to an abandoned building. Off the clothes go and rimming is started. Now it's the turn of the hard tourist cock. Michael gets a wild and hard banging. You can forsee: Michael expected a nice ride but now he is the victim and has to take the hard boner up to the limits and a final spray all over.
12/17/2014 07:00 PM
Aday Traun & Alejandro Ferrer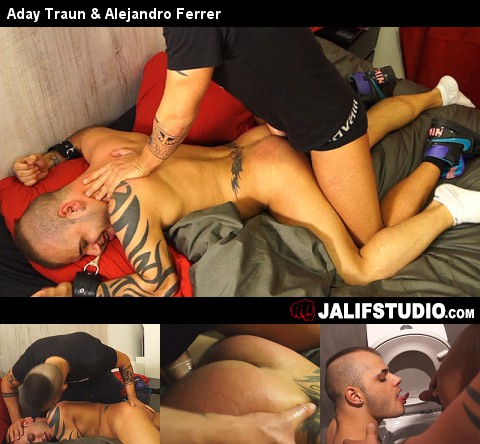 No straight guy can say no when a girl like Blanca proposes a bit of hard playing. But what if once tied at his bed it's not Blanca who keeps on with the session? The Spanish young macho Aday Traun keeps on with Blanca's job as only he knows.
12/17/2014 07:00 PM
You're My Bitch 4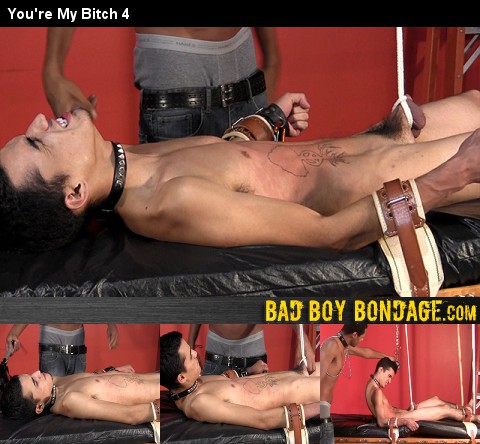 Lucas Love now finds himself strapped to the table, his balls tied by rope to a pulley with weights.The sadistic Mikeal knows just what to do with those sensitive balls!
12/16/2014 07:00 PM
Bareback Orgy in Milwaukee
With a bunch of hot guys traveling the country together on the Jason Sparks Nationwide Bareback Road Trip - it's no surprise that at some point we'd find them all in the bathroom fucking. The five are crammed into the hotel bathroom and with such little space they have to fill every available hole with either a cock or a tongue. And lucky Zach gets covered with the other four's cum in the bukkake finale!
12/16/2014 07:00 PM
Maef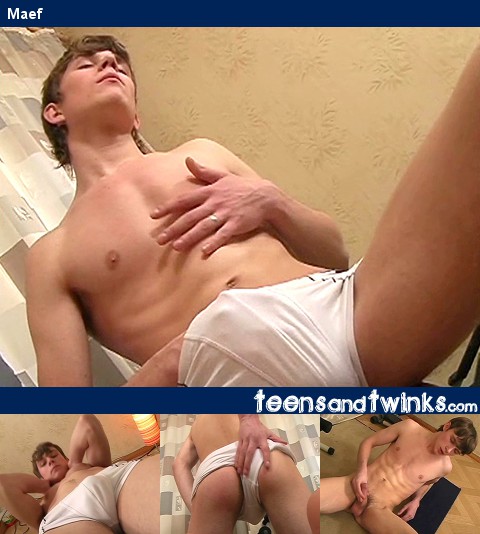 The six pack on Maef looks good enough to lick for hours. But he's much too busy jerking on his tool in this video to satisfy our other whims. Watch him in action solo.
12/11/2014 07:00 PM
Bi-Bareback Orgy - Part 3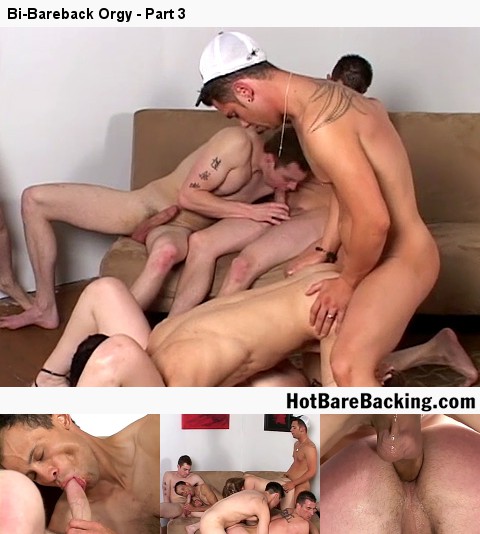 Cum enjoy the conclusion of this three part bi-Bareback Orgy. Every kind of of hole is being filled here by cock and there's cum galore at the climax of this scene.
12/11/2014 07:00 PM
Ready4Play: Part 1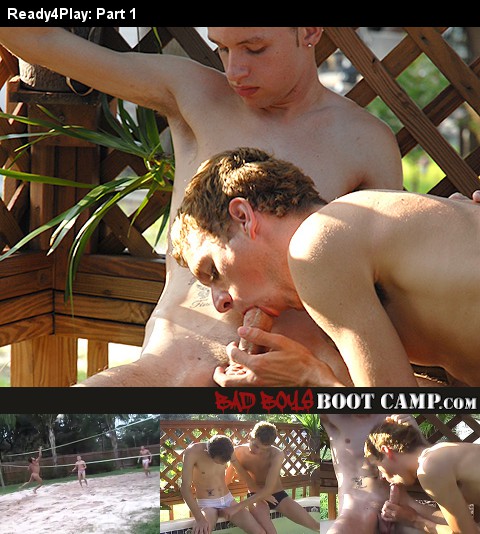 After a hot day in the sun, the boys look to get relaxed in the hot tub where thing get even hotter. With suits off, Alex and Niyo take their turns sucking and playing with their hard cocks.

12/10/2014 07:00 PM
Gustavo Henry Bangs Miguel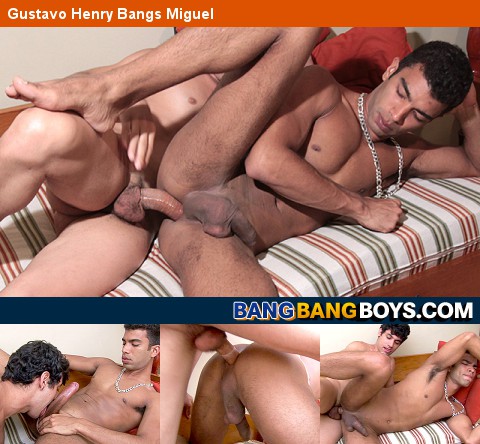 Gustavo just wants to fuck and Miguel is ready for his onslaught. They fuck in a bunch of positions until Miguel's hole is satiated and his stomach is covered in his own cum and his face is covered in Gustavo's.
12/10/2014 07:00 PM
Marco di Lucca and Elixir Erotas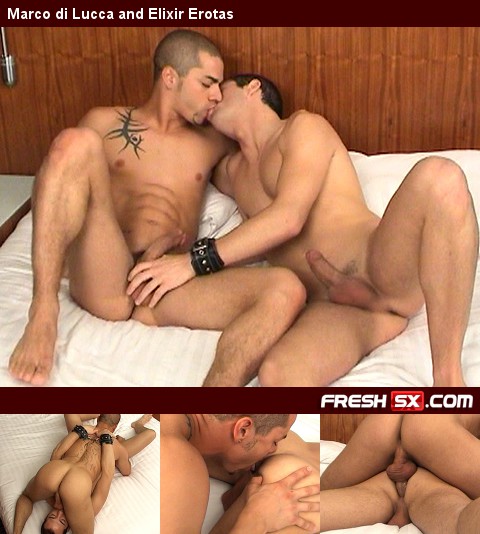 In this scene Elixir Erotas and Marco di Lucca have to perform a sex scene using a pair of handcuffs.
12/10/2014 07:00 PM
Rainer & Rafa Marco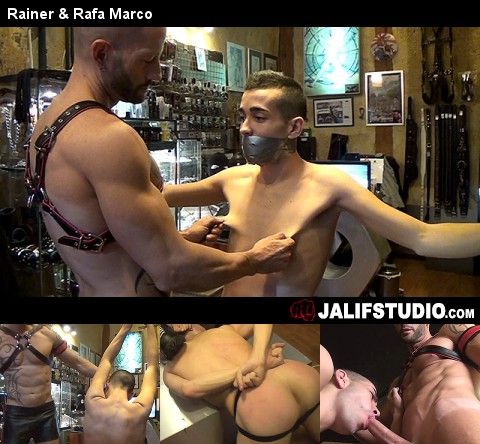 An intense boots, foot worship, anal work and spank session between Rainer and Rafa. A public set that every person walking by enjoyed live.