Latest Videos
02/16/2017 07:00 PM
Carlos & Brogan BAREBACK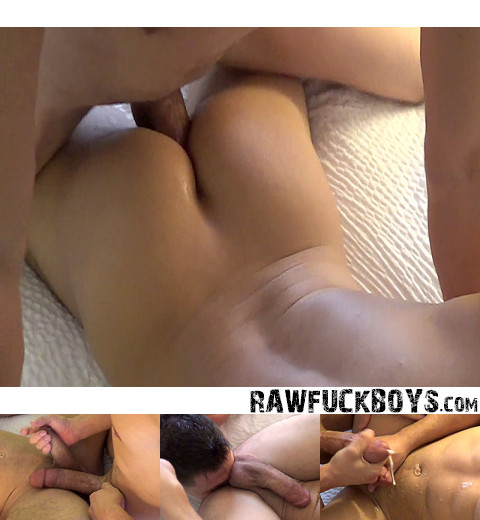 Carlos has a big dick with a fat head. Brogan has a tight muscled butt that you could bounce coins off - it's tanned and perfect. The combination of that thick headed raw cock slamming into those mounds of butt flesh is flawless. Brogan's abs also look good covered in first his cum and then Carlos' big load.

All this and rimming and sucking and a whole lot of bareback fucking!
02/16/2017 07:00 PM
Start Talking Part 9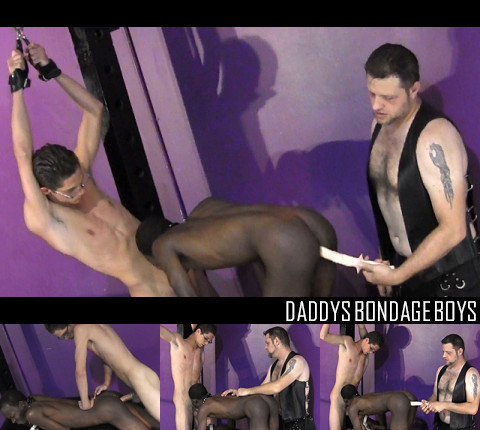 Vin is finally fed up with playing games with Tyrone and Justin, leading them both to each other he makes them have sex and ensures that they both enjoy it.
02/16/2017 07:00 PM
Bryan Cole & Johnny V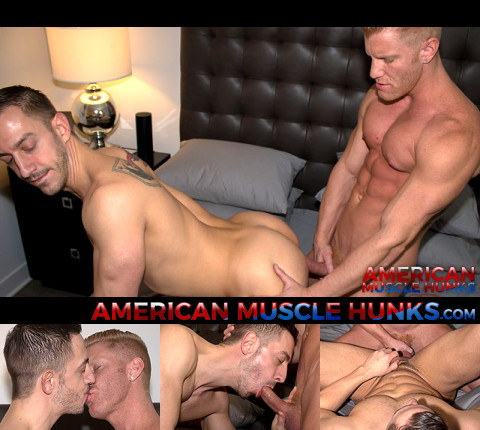 Bryan Cole returns and is topped by the one and only Johnny V. The muscle hunks swap kisses and quickly get to body and cock worship on each other. Johnny quickly hops on that big muscle ass of Bryan and buries his face in it before mounting up and entering Bryan from behind. Bryan gets fucked on all fours before flipping onto his back. Johnny blows his load while fucking and then fingers Bryan until he covers his ripped abs in cum.
02/15/2017 07:00 PM
JD Daniels & Gabriel D'Alessandro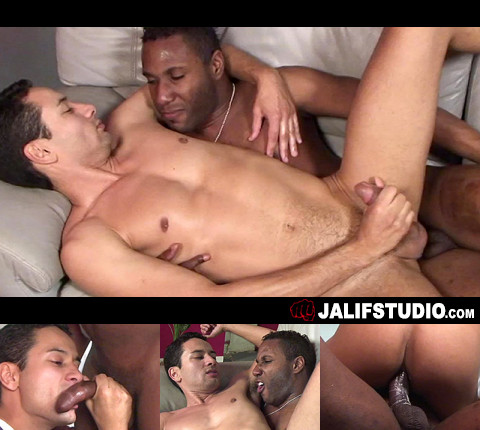 Horny big dick Latin stud Gabriel D'Alessandro wants bigger and blacker things fucking him so we gave him ebony star JD Daniels! His 10 inches of black madness drills into Gabriel's tight ass but he's not complaining! We're surprised Gabriel could hold in his cum as long as he did!
02/15/2017 07:00 PM
Fritz der Haarige & Rico Rothar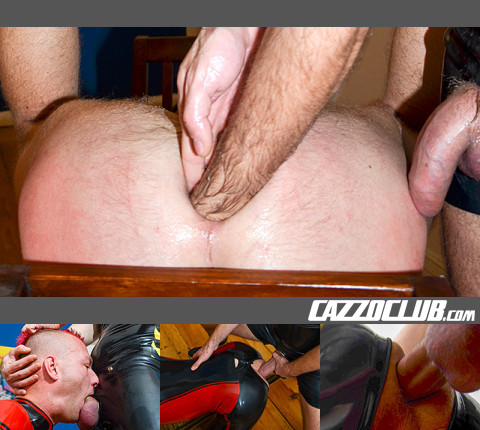 Bearded pigs can be found everywhere in Berlin. But Fritz der Harrige beats them all.
He accepts an invitation by rubber pig Rico Rothar to meet him in his apartment. The German Fritz has dressed in a black and yellow rubber Jersey and is welcomed by Rico who is kneeling before him - Fritz pushes his cock with relish in Rico's face. Rothar in the Red Jersey swallows Fritz's juice club wholly and is rewarded with a spit covered cock in his wide open mouth. Rico swallowing mouth moves swiftly but is still being slammed harder by his master, mercilessly attacking his neck cunt. But rest he will not. The punk screams out his lust, but Fritz has only just started and brings his slave on his knees.

After spanking his hairless ass with a sneaker and he finally shoves his bare cock into the steaming meat. Rico enjoys the very slow fucking movements and Fritz changes direction. He hits him on the butt and presses himself again more brutally in the asshole. While he pulls apart the plump cheeks, he slams him harder and clap of his balls against the cunt hole is heard.

Then Fritz shoves his hand in the ass lips without hint of punk knowing it. And as if that wasn't enough he pushes his dirty cock with in the hole too. Rico's cries wake finally the pig fully in Fritz. He fists alternately in the tormented rosette. The punk can't believe it as the hairy German pig fists him with both hands the ass channel.
The hole squishes and pushes the big hands harder and deeper fuck until the Rosebud arches with full pride out of his ass. The thick sauce that Dick shoots from Fritz and defile the pussy lips again as he pushes into the pulsating flesh.

02/15/2017 07:00 PM
Jaxon, Leo, Titus & Cruiser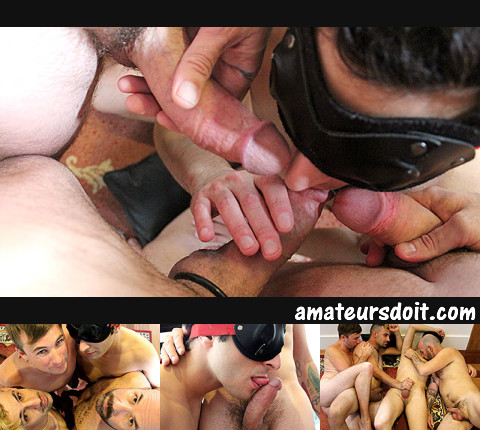 Jaxon and Leo take control of the two newbies Titus and Cruiser. The two fresh amateurs are soon on their knees in front of their more experienced Australian counterparts and sucking on their cocks.

Jaxon has brought a surprise for Titus - it's a mask which no doubt helps the inexperienced amateur to forget he is being filmed as he throws himself wholly into the job of sucking Jaxon's hard cock.

Such is cock sucking skills that he is soon surrounded by the other three and takes turns at putting each dick into his salivating mouth. He can't distinguish who owns what cock nor does he care as long as his oral fixation is satiated.

They split back into pairs so that the two bottoms can get some cock in their ass - Leo and Jaxon are only too ready to fuck the new amateurs.

Finally the four are laying together as they stroke their cocks to cum flying conclusion entangled in each other.
02/14/2017 07:00 PM
Mason Lear & Caleb Nash BAREBACK in Orlando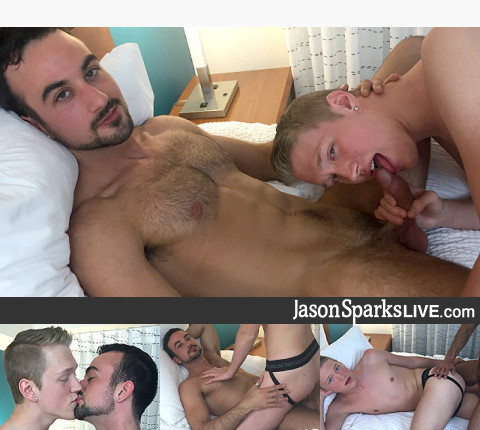 Today's update is what happens when the boy next door is fucking the boy you wish lived next door! Our latest Nationwide Model Search find is blonde Caleb Nash who may look all sweet and innocent but he's got a real dirty side and loves getting fucked!

Of course you know the deliciously lightly furred Road Trip regular Mason Lear and together these two deliver a lust-worthy bareback fuck session. Caleb has some serious cock sucking skills and Mason lies back and enjoys every ball sucking, shaft juicing moment. Caleb then jumps right on top of Mason Lear's cock - he perfect butt framed by a black jockstrap.

Mason bare fucks that sweet boy's ass until he can stand it no more and blows a huge load over his tight pale buns.
02/09/2017 07:00 PM
Ken & Zack BAREBACK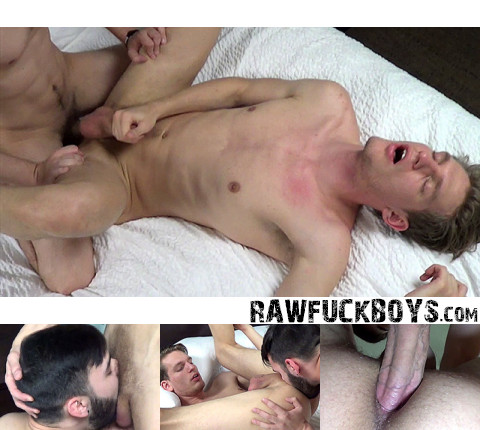 Ken is on his knees - Zack's big cock in his mouth - his bearded face is pressed up against Zack's groin as he engulfs his entire dick. He sucks at Zack's balls and then his pushed back on the bed.

Zack shows off his own sucking skills - but the bearded Ken wants to get inside Zack's hole. His tongue licks Zack's ass lips bending him over so he can get as deep inside as humanly possible. Zack is so horny now that his hole is screaming for cock - so Zack jumps on top of Ken.

Ken's raw cock inside his hole feels insanely good - Zack can hardly contain his load. Ken continues to slam his hole until it's too much and Zack cums on himself. The sight of Zack's jizz on his abs sends Ken over the top and he cums deep inside Zack's fine ass, breeding his load deep inside. As he pulls out you can watch the cum dripping from Zack's hole.
02/09/2017 07:00 PM
Breaking & Entering: Part 8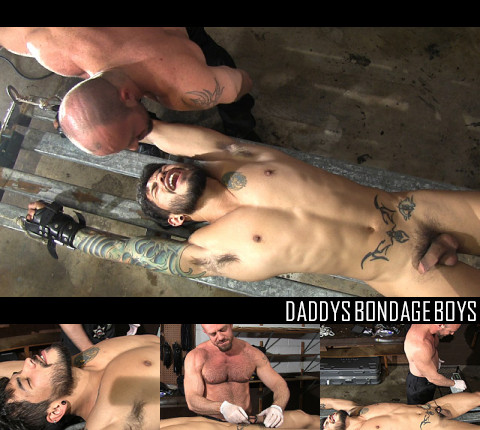 Time for this perp to get a little attitude adjustment. First his limbs are stretched to point where Draven Torres is wailing for release, and then a little dick electro is applied. About now Draven wishes that he didn't have a dick.
02/09/2017 07:00 PM
Your Pain Is My Pleasure Part 4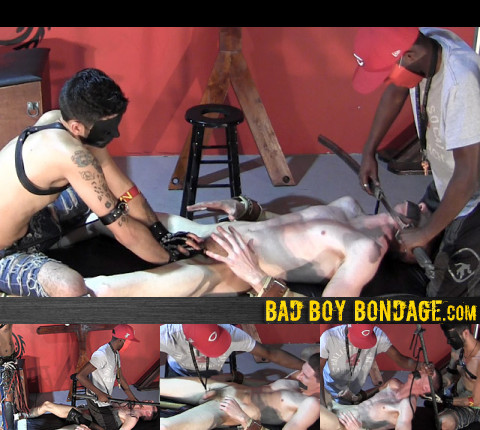 A double team of two dark and twisted sex craved boys ... Damien Rage is about to become the next victim of foul play.
02/09/2017 07:00 PM
Logan Cross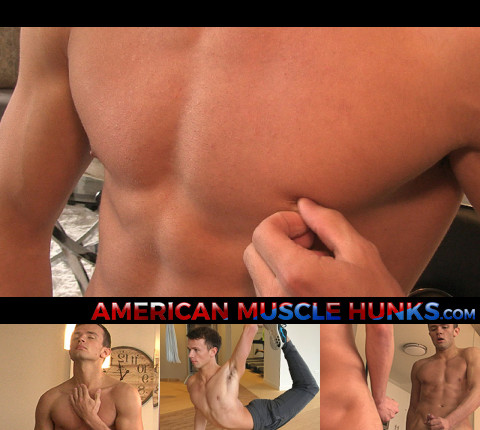 Welcome to the ranks of the hunks, Logan Cross. He is very excited to get started showing off his gymnastics moves and ability to stretch in ways that will be useful for some hot sex positions. After his stretching session, he gets down to business showing off his ripped physique and perfect, smooth ass. Stroking and flexing in the mirror he blows his huge load and watches it drip down the reflection.
02/08/2017 07:00 PM
Hot Boi & Gabriel Blue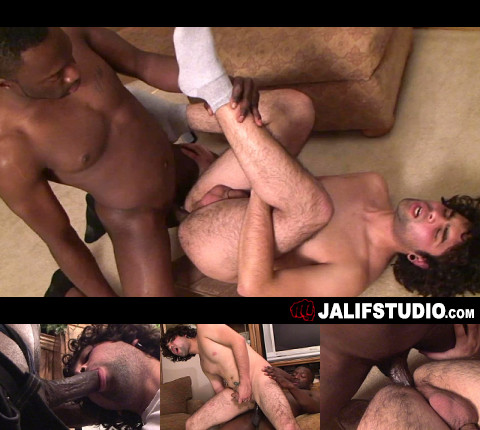 Shaggy white dude Gabriel doesn't usually get with guys like Hot Boi but that hot black body is just too irresistible!
02/07/2017 07:00 PM
Chandler Mason & Brogan Reed BAREBACK in Indianapolis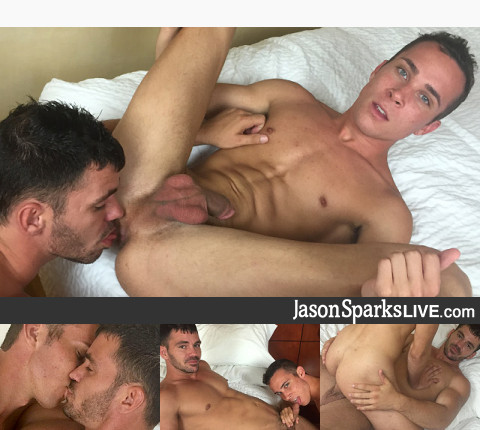 We have so many hot guys this month - and our latest find Chandler Mason is not exception. He's a jock and a singer / dancer - has great ball skills (on the soccer field) that he loves to put to work in bed AND has appeared on American Idol.

He's here with our resident muscled hottie Brogan Reed and together the two of them deliver a sizzling scene that will have you hard as Brogan's pecs. Chandler does an outstanding job at deepthroating Brogan's cock - Brogan then face fucks the horny newcomer.

Flipping him over Brogan rims Chandler's hole (did I mention this guy lost his virginity in a public restroom!). It's then time for Chandler to get fucked and Brogan knows just how to satisfy him. Watching that gorgeous muscled torso as he barebacks your hole would be enough to make anyone blow and Chandler soon blows his load all over his tight abs.
02/07/2017 07:00 PM
Bobby Exclusive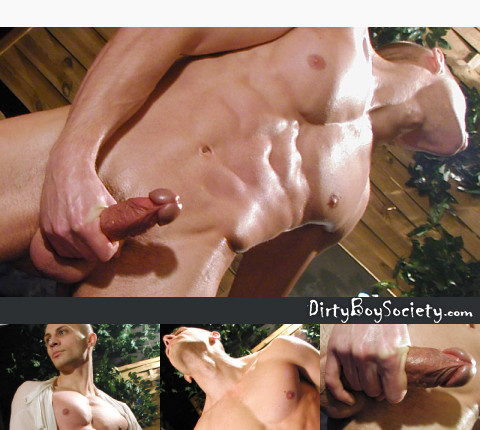 Blonde Bobby has a fine set of muscles. Watching him flex and jack off is truly a joy.
02/05/2017 07:00 PM
Be My JockPussy Valentine!
Luke Hudson brings you a special Valentine's Day gift - a glorious creampie scene with the super sexy Jake Archer in conjunctin with RawFuckBoys.com.

Jake and Luke are wrapped in lights as they kiss passionately on the bed. A heady mix of passion and lust the two are bonded together. Luke brings his lips down to Jake's big cock - swallowing every inch. Jake's bare cock is wet with Luke's saliva and ready for Luke Hudson to climb on board.

Luke rides that big bare cock on top of Jake and in a variety of sizzling positions. It feels so insanely good that Jake can not contain his seed and blows his load deep inside Luke - the huge load drips out - the two a satiated and it's a Happy Valentine's for all.