Latest Videos
01/29/2015 07:00 PM
Armond Rizzo & Joey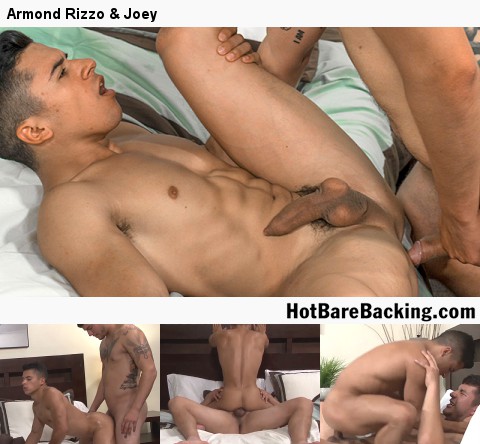 Armond deep throats Joey's juicy cock - lubing it with generous amounts of spit. He then presents his fine ass to Joey who fills it with his bare cock and a generous amount of cum.
01/29/2015 07:00 PM
Jeremy Rowen & Milos Tash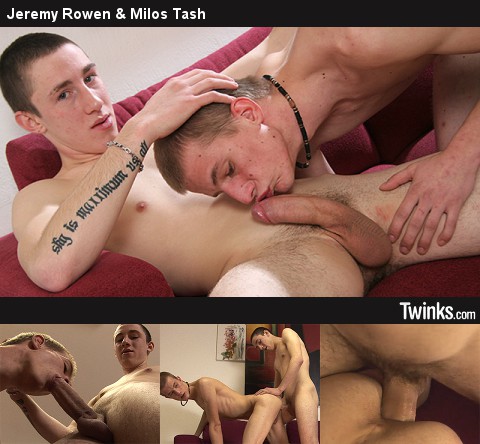 Sitting on the couch in just their boxer shorts - curiosity gets the better of Jeremy and Milos as they uncover what they have hiding in their shorts. Jeremy looks very pleased as Milos sucks on his cock lubing it up with his spit as he does. His cock is now wet and ready to plow Milos' ass bareback which he does with vigor - leaving a huge wet sticky mess all over that fine ass.
01/29/2015 07:00 PM
Taught A Lesson: Part 4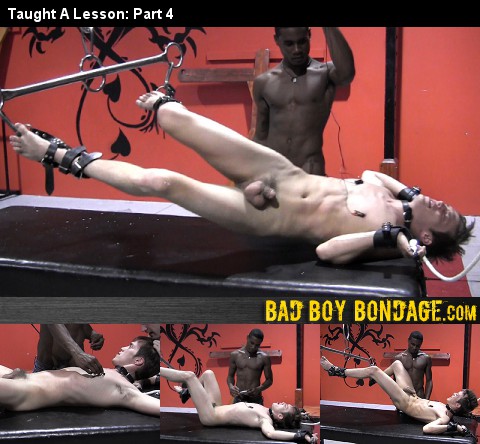 The bitch Brice Carson's legs are raised, and juice starts to flow between his nipples. Masters Tye and Deveon apply the electro judiciously, always ready to give a smack of the flogger when it suits them. Watch the boy squirm!

01/29/2015 07:00 PM
Trailer Park Bois: Part 4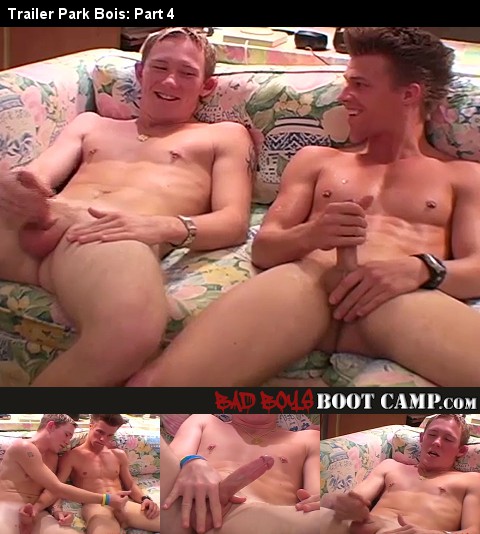 Let's get this party started! Sexy twink boys Kyle and Dakota strip down on the couch and stroke each other off, exploring their bodies. After their mammoth releases of jism, they hit the shower to clean up. These boys do everything together.

01/28/2015 07:00 PM
12262014s4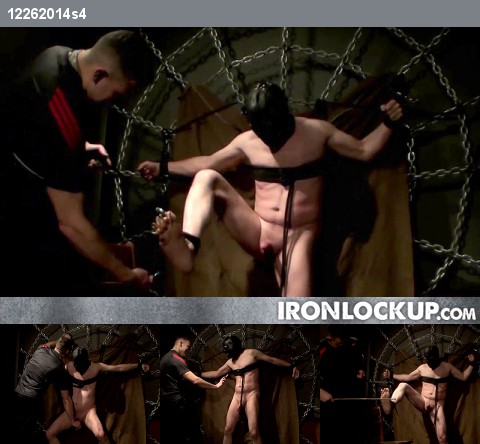 And now for something completely serious: a puppy tickle torturing an innocent victim stuck to the spiderweb. Puppy utilizes a pinwheel, a claw, and his teeth to make the prisoner scream (in horror or delight it's hard to say). When the bamboo cane and the chair come out the prisoner gives a look of confusion, that is till he finds his feet propped up and caned.
01/28/2015 07:00 PM
David & Ivan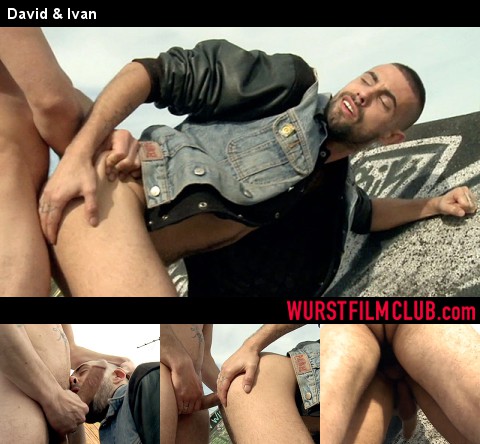 Ivan is horny and has a fuck date. He enjoys weird locations and will meet the clean shaved David on an empty roof in the middle of Berlin. Soon the rules are set. David is dominant and Ivan will be very submissive. His first lesson is to swallow David's enormous cock. Ivan is a master in sucking and giving head with his very active tongue so that David start to moan deep and hard soon.
01/28/2015 07:00 PM
Morgan Daix & Pedro Paliza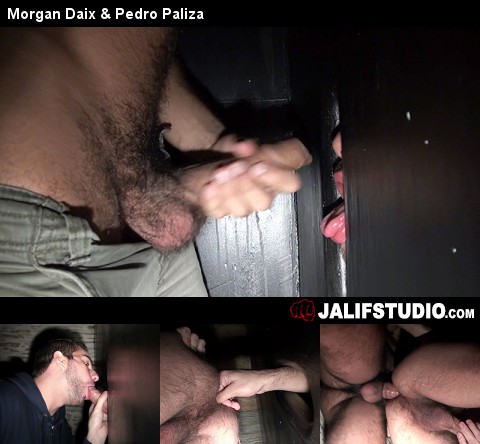 The atmosphere in backroom is hardcore, young Morgan DAIX is looking for a soft ass comes to get hard through the Glory Hole. Once he sees cock, sexy Morgan can not help it - the smell, feel and harden in his mouth .. He does not know who is behind this big cock but who cares as still it is growing and again !! Provided that there is juice in those big balls!
01/27/2015 07:00 PM
Dustin Tyler & Jake Matthews BAREBACK in Madison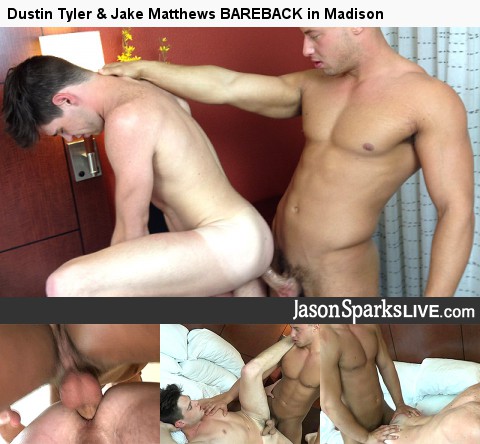 Dustin and Jake were so keen on fucking each other that we skipped our usual interview! They kiss each other like men possessed - not surprising for how damn sexy both of them are! Jake goes to work sucking Dustin's fat cock getting nice and hard so that he can feel it slamming into his ass. Dustin doesn't disappoint - he muscled physique ripples as he pounds Jake's ass with his bare cock!
01/22/2015 07:00 PM
Ricco Luna & Mario Luna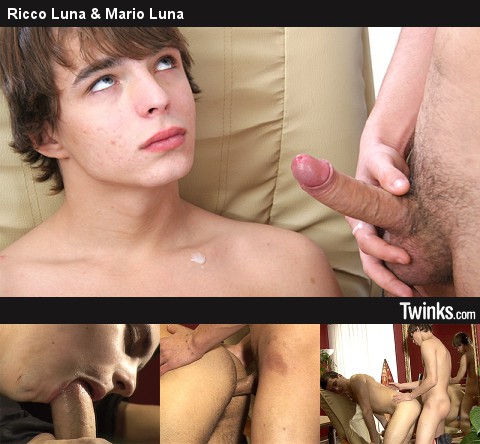 Ricco's big dick is being devoured by Mario as this scene begins. His sweet lips wrap themselves around that thick meat as Ricco groans in pure pleasure. Then Ricco takes his turn to swallow Mario cock. Mario wants Ricco's dick in his ass and Ricco fucks the lucky twink bareback in front of the mirror - slyly watching his gorgeous twink body in the reflection!
01/22/2015 07:00 PM
Latin Punishment: Part 2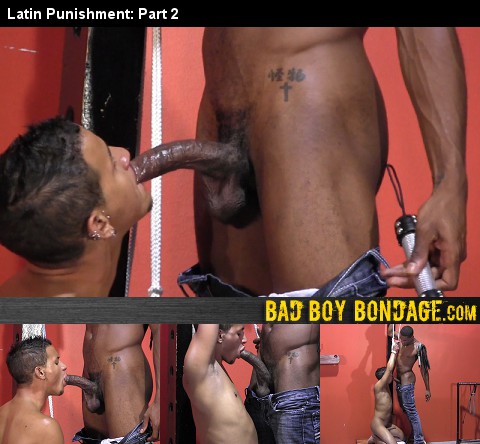 After the flogging, Master Devon decides to get some pleasure out of his slaveboy. Joseph Rowland can barely get his mouth around the Master's enormous cock, but once inside, Master Devon starts face fucking away.
01/22/2015 07:00 PM
Ready4Play: Part 5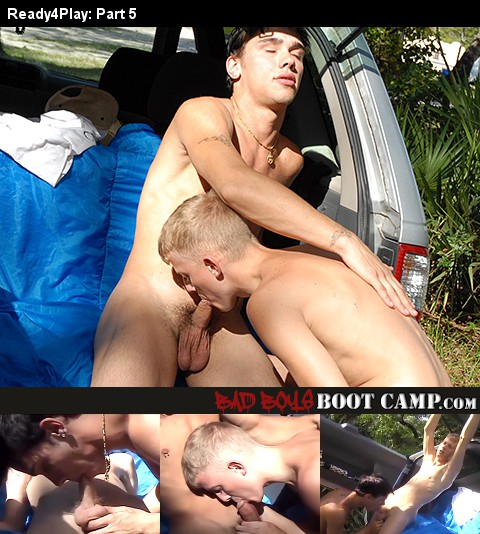 Friends Brock West and Conray James find a nice place to park at the campground. But before they even take their stuff out of the trunks, they are sporting huge tents in their pants. They swallow each other's tools, each trying to outdo the other.
01/21/2015 07:00 PM
12262014s3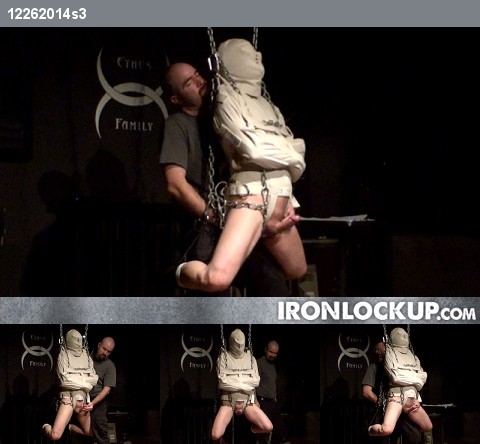 In a full straight jacket and chain suspension the prisoner is subjected to rough impact play as his legs flail in the air causing the chains to bite him mercilessly. The prisoner remains rock hard through the torment. Sir comes back, lube in hand, and begins to tease the prisoner's prostate.
01/21/2015 07:00 PM
Michael Selvaggio & Fostter Riviera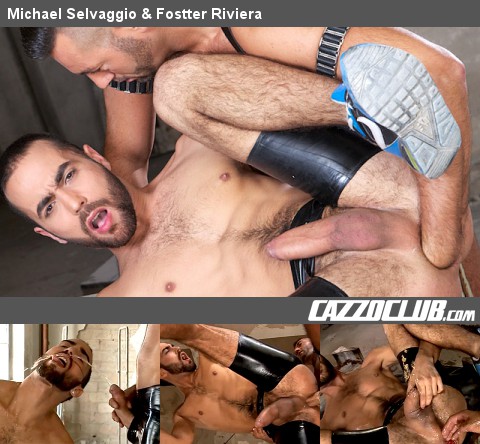 Portuguese sneaker pig Fostter Riviera returns with a vengeance to the Cazzo world. He proves sometimes a man's hole has needs and clearly has a few ideas on how to handle his hunger. In typical Berlin fashion Fostter found the perfect place for his desires: an abandoned storage room. Joined by Dutch newcomer Michael Selvaggio, he eagerly awaits something to stretch himself wide open with. Nothing is off limits for this dark-haired slut. Mohawk pig Michael warms up his servant up with a huge serving of piss which Fostter gladly laps up. One would think after an intense fisting session his ass would be satiated but who could say no to Michael's brutal cock?
01/20/2015 07:00 PM
Travis Stevens & Zach Lockhart BAREBACK in Las Vegas
Travis and Zach are really enjoying their time on the Jason Sparks Nationwide Model Search and they are living large in Vegas! These two big dicked hotties start in a 69 sucking on each others cocks. From that point on you know this is a hot scene! It ends with Travis begging Zach to shoot his load in his ass - which he dutiful does! Cum drippingly exquisite ending!
01/15/2015 07:00 PM
Xander Hollis & Robin Berg
Xander and Robin explore each other's bodies with their mouths as they trad blow jobs. Xander then gets on all fours as Robin takes his tongue and wets Xander's hole with it. Xander moans in absolute pleasure but his luck hole is in for so much more! Robin gets his fingers deep inside the hole before pounding it with his big cock.